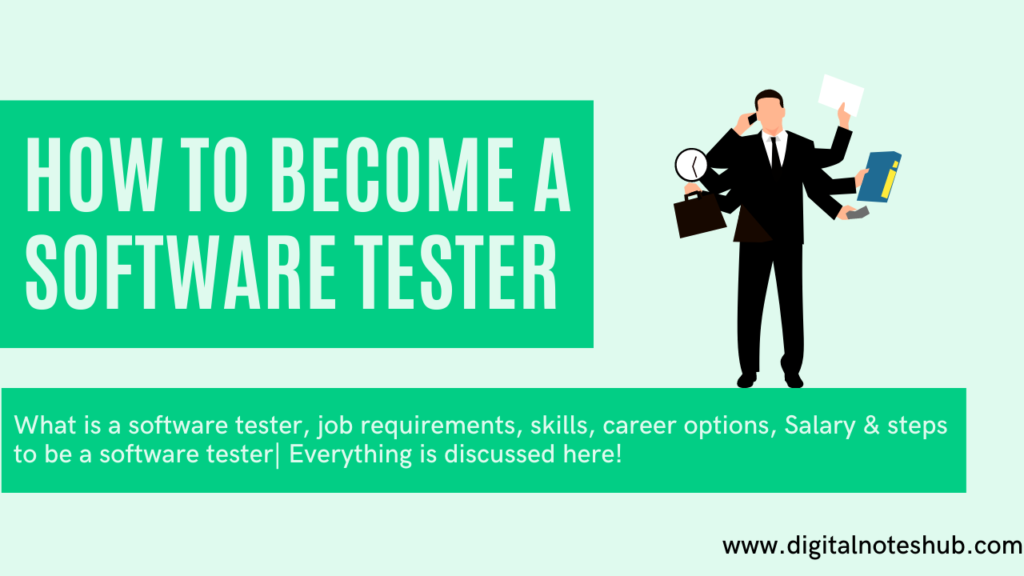 The world of software testing is becoming more and more popular as everyday different software are developed. Do you want to know everything about how to become a software tester? Then this career guide is especially for you.
Everything related to the software tester is discussed in this guide from what is a software tester, skills, requirements, courses, career, salary and 7 steps for how to become a software tester.
Are you Excited to know all of these points?
Yes! Let's move further to explore the world of how to become a software tester. But before that, you must know what is a software tester and its requirements firstly understand this, then we will move further to explore how to become a software tester.
---
What is Software Tester
Software testing is the process of checking software to identify bugs or errors. The process of testing includes many functions such as whether the output result of a software matches desired one, identification of bugs or defects, matches the requirements or not, the software is working fine or not. To implement software testing two main methods are used
Manual testing
Automatic testing
In manual, software testing is done by using manual methods and on other hand, automated tools are used in automatic testing.
The process of testing is carried out by a software tester. The person who checks the software to ensure that it is free from defects and whether meets the requirement or not is called a software tester.
Now, In every field, different software is used and all these software's are developed by software developers. The software developer just develops the software and their job is not to check the software. It is not possible to launch the software without testing because it may contain bugs or errors.
Now who ensure that software is free from bugs and meets the requirements of a client?
And the answer is software testers. A software tester performs different types of testing techniques to test the software from different aspects.
What is Software Tester Responsibilities
The job role of software tester includes following responsibilities
He ensures that software is free from bugs or errors and it is ready to launch.
After reviewing the software requirement he checks whether the software matches the defined requirement or not.
Software tester uses different testing techniques to ensure software usability and performance.
He also tests software to review software for scalability and user acceptance.
After software testing, he prepares reports for every aspect and reports to the software designing and development team.
To better understand the requirements of software he participates in meetings with clients.
Now you know what is software tester, what they do and what are the software tester responsibilities. Let's move to the next step in the world of how to become a software tester.
How To Become A Software Tester | 7 Steps
To become a successful software tester follow career steps from a very basic level. Step by step career guide will help you to achieve the overall dream of a software tester. Here I've divided the path into 7 steps and these step will tell you how to become a software tester.
There are 7 stpes to become a software enginner as given below:
Step 1: Choose a Path
Step 2 : Learn Software Testing
Step 3: Build a Strong Skillset
Step 4: Select the Best Career for you
Step 5: Create an impactful resume, cover letter and portfolio
Step 6: Apply for jobs or start your own business
Step 7: Never stop learning
Follow these 7 steps with passion and dedication to become a software tester
Choose a Path
There are two paths to becoming a software tester one is with a degree and another is without a degree. Yes! you heard right you can also be a software tester without any degree but experience & certifications are required in this case. To Become a tester without a degree is possible in the freelancing world. In Freelancing, you can work as a software tester without any degree but powerful skills are required. In the later part of this article, you will know about certifications for a software tester.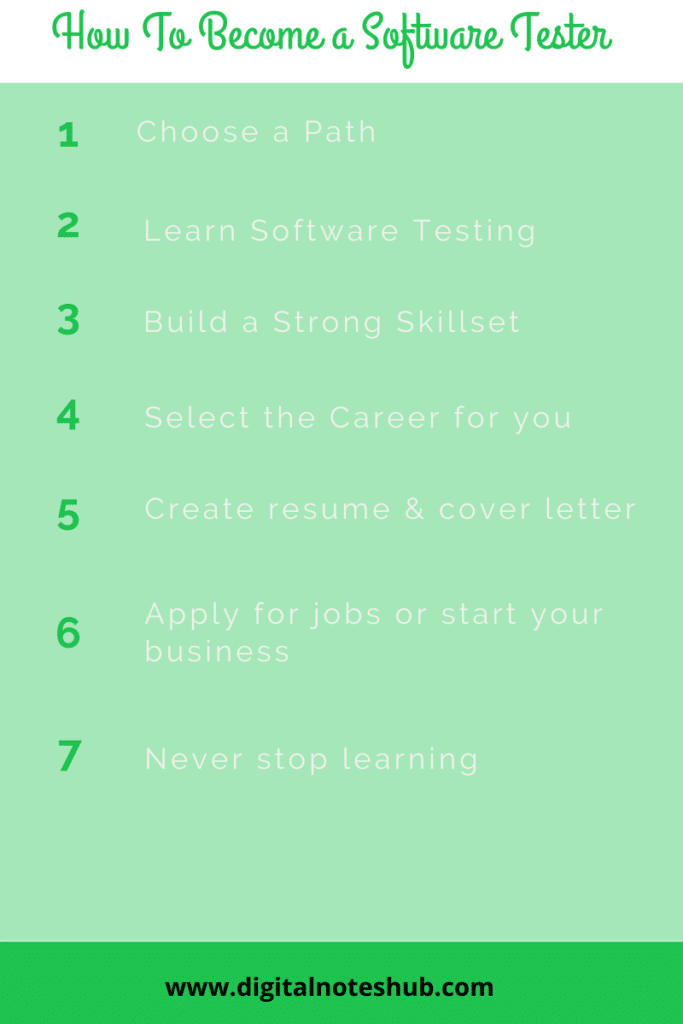 But if your dream is to be employed in the company or government sector then you have to be graduate with a degree course with software testing skills.
Software Tester Course
To Become a software tester you can choose a bachelor's degree in computer science and other courses related to computer science. Here is the list of top software tester courses which you can choose for how to become a software tester, on the basis of your interest
Bachelor's of technology in computer science
Bachelor's of technology in information technology
Bachelor's of Engineering ( BE) in computer science
Bachelor's of computer application (BCA)
BSc in Computer Science or Bsc IT
And for higher studies, there is two software tester course available. You can choose either MTech or MCA in computer science or other related fields.
Learn Software Testing
To learn software testing doesn't just be dependent upon your academic course. College or university will provide you with mostly theoretical knowledge of software testing. Only concepts are not sufficient to make a successful career in software testing.
What You Can Do to Learn Software Testing?
Software testing is a practical skill and you can learn it from the Internet as well. You can use free resources that are available on Google and Youtube. Apart from this, there are some websites that provide you with free online courses for software testing.
But if you're willing to spend some money then purchase software testing online courses and after successful completion of the course, they will also provide you certification. These certifications will help you get your software testing job. The most popular software testing certifications is ISTQB and CSTE.
Now you know that how to learn software testing let's jump to the next step of how to become a software tester.
Build A Strong Skillset : Software Tester Skills
The next important step in the world of how to become a software tester is to build a strong skillset. For every single job, thousands of candidates are competing with each other. It means there is a lot of competition when it comes to getting a suitable job.
Do you want to cross the competition?
To cross your competition you have to build your strong skillset. No doubt, the requirement of a company is to hire graduates in computer-related fields. Along with graduation if you have strong skills then you can easily cross thousands of candidates. That's why it is necessary to build a strong skillset. The software tester skills are divided into two parts technical and non-technical software tester skills.
Technical Skills Required to Become a Software Tester
The technical skills will directly help you to perform your job. To become a software tester you must have technical knowledge of software testing. Here is the list of technical skills to become a successful software tester.
Every software has an immense amount of data and different databases are used to store that data like Oracle and MySQL. To ensure that data is correctly stored in the database, you must have a knowledge database and how to run SQL queries on the database.
Mostly, Linux operating systems are used to develop software, applications, web applications and other software systems. So you must know how to work on Linux and its useful commands.
To identify bugs or defects in software, defect tracking tools are used. You must have knowledge of how to properly use defect tracking tools, like Jira, QC and Bugzilla.
Knowledge of automated testing tools if you want to be an automated tester.
Working knowledge of test management tools to manage and track all test cases.
Apart from this, if you have basic knowledge of programming languages then it would be a plus point for you.
Other Skills to Make a Successful Career as a Software Tester
Apart from technical skills, you must have soft skills and these skills will help you to get and perform a job more efficiently. Let's have a look at other required skills to make a successful career in software testing.
Strong communication skills both verbal and written.
The ability to meet deadlines means effective time management skills.
You must have a passion to perform software testing job.
Organizational and presentation skill to impress ideas in front of other team members.
A great attitude and positivity will help you to work in the most critical conditions.
Select a Best Career For you
In the process of how to become a software tester, now is the time to choose the best career option for you. Do you think that only IT companies hire software testers?
No, you're wrong, apart from IT companies there are many other great career opportunities for software testers.
Are you excited to know?
YES! Here is list of various Career options for you and you can choose based on your interest:
IT Companies
Multinaional Compaines (MNC's)
Government and other related sectors.
Freelancing Career
Start your own business or consultancy.
Be a professor of software tester if you like teaching
Online tutoring jobs as a software tester.
Now, it's your turn to choose the best career options for you and after choosing it you will move one more step closer to how to become a software tester.
Create Resume, Cover letter and Portfolio
Now, you have successfully learned how to learn software testing and other relevant skills. Next, is how you can represent your knowledge and skills to the interviewer?
For this, three main documents are used i.e Resume, cover letter and portfolio. Out of these three documents, a resume is the most commonly used documents for job applications. But, everybody has a resume who is applying for a job. To do something unique and impactful to put a great impression on the interviewer you can use other two documents ie. a cover letter and portfolio.
Let's briefly discuss these three documents so that you come to know what exactly these documents are.
First is a resume and it is basic documents that include your personal information like Name, address, contact details, hobbies, skills, education, experience(if any), certifications and other related information. Second is a cover letter when you will apply for a job then attach a cover letter with your resume. The cover letter is a job proposal that is used to express that why you are the best for this particular job and what capabilities you have to perform a job.
Next is the portfolio, it is not the most commonly used document for jobs but for freelancing it is an essential document. The portfolio includes your work samples or previous job samples.
Apply For Job or Start your own business
Now, you have essential documents to apply for a job and from now onwards, you can apply for different software testing job.
How you can find software tester job?
There are two ways to find jobs one manual and other is through online platforms.
Manual process – You can visit different companies in your location and ask from HR manager if there is any vacancy. If there is a vacancy you can apply for that otherwise they will store your resume in their database and contact you in future when there is any vacancy for you.
Online Platform – if you don't like to search for jobs by visiting companies then don't worry. You can also find software testing jobs by sitting at your own home. For this, you need an internet connection and a computer device like a laptop, computer, mobile phone or tablet.
The online websites where you can search for software testing jobs are Linkedin, Naukari.com, indeed, simply hired and glassdoor.com
Apart from this, if you're doing a bachelor's of technology then companies will also come to your college if your college has collaboration with software companies.
Never Stop learning!
Now you've almost reached the end of how to become a software tester guide just one step left i.e never stop learning. Software testing is a great career option and in this field, you will get lots of chance for career growth. But for this, you have to be a self-learner. Use the internet and other resources to learn about the world of software testing.
This field is continuously growing and the most demanded field so never stop learning. Every day try to learn something related to software testing to upgrade your skillset day by day. Learning and practice is the key to success in the field of software testing and others as well.
I hope now you have an idea that How to become a software tester and follow these 7 steps to become a successful software tester. If you have still something in your mind related to how to become a software tester. Please feel free to ask your queries in the comment section and I will get in touch with you asap.

Have you enjoyed this career guide for how to become a software tester and let me know in comments.
---
Here is another important career guide for you, Check it out !